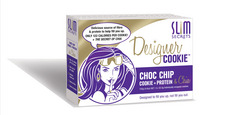 Victoria, Australia (PRWEB) June 26, 2009
Australian snack company, Slim Secrets, has just launched a Designer Cookies range in Choc Chip and Trail Mix. Designed to fill you up, not out, they're a guilt-free way to fulfill any sweet craving. Slim Secrets Designer Cookies have less than 125 calories per cookie, allowing healthy eating habits to be maintained. Slim Secrets Designer cookies are also an excellent source of fibre, protein and Omega.
Both flavours of Slim Secrets Designer Cookies come out on top when comparing energy, protein, fat, carbohydrates, fibre and sodium with other regular and low-fat cookies on the market.
Slim Secrets is the brainchild of wellness and weight-loss coach Sharon Thurin. Slim Secrets Designer Cookies were developed when Sharon became increasingly aware of the snacking dilemmas faced by many Australians. "Most of the protein and snack foods on the market were too high in fat and sugar, sport-focused, over-priced, tasted like cardboard and serious. With obesity at an all time high, I set out to create a range of products that are low calorie, fun, affordable, tasty and most importantly, healthy. Before I knew it, Slim Secrets was born!" says Sharon.
"I found that women like the portability of snack bars but many felt they were unhealthy and lacking in female-focused ingredients. Slim Secrets is the perfect solution to the age old women's problem of being of too busy and active to get the right nutrition. Most women also want to snack on something that is nutritious and tasty but without the 'guilt' attached," says Sharon.
Slim Secrets Designer Cookies contain the revolutionary super-food, Chia Seeds which are an ideal source of Omega-3 (30%) and Omega-6 (40%) essential fatty acids. Loaded with vitamins, minerals and antioxidants, Chia Seeds slow down the rate at which the body converts carbohydrate calories into simple sugars.
There are a number of other ingredients in Slim Secrets Designer Cookies that make them an ideal snack:

Protein – soy and whey protein are high in fibre, low in saturated fat, a source of energy, cholesterol-free and lactose-free. Combined, they help to lower blood pressure, reduce risk of osteoporosis, protect against various cancers, manage endometriosis, build and repair muscles and bones and help to control important bodily processes relating to metabolism.
Fibre – helps to reduce cholesterol by slowing digestion in the stomach which maintain blood sugar levels.
Rolled Oats – are full of nutrients including vitamin E, selenium, copper, iron, magnesium and manganese. Together, they help to keep the immune and nervous systems healthy, maintain normal blood sugar levels, strengthen bones, promote optimal function of the thyroid gland and prevent tissue damage.
###